#2 – Gifts for the Impossible to buy for (or please) – Last year I got rather disgusted with the "Christian Race" To many Christians talking about love, but speaking hate.
I had to distance myself from it, so kind of off the cuff I created a new religion "Christ-Zen" All the Love, none of the hate.
While I was at it I created a new holiday – Zen-mas.
Don't get me wrong, I LOVE buying everything possible on my girls Christmas lists, but the meaning of Christmas has been lost. It's all about the money and gifts and standing in line for hours on Thanksgiving to get pepper sprayed as you race into Walmart.
People try to put Christ back into Christmas by forcing their children to listen to the Christmas story before opening gifts (Grandpa, I was never listening) Or having a Jesus Birthday cake or going to church. But as soon as you pull out that credit card or lay down the cash, you've lost the meaning.
The amount of money spent on this holiday is ridiculous – My House is Full of Crap – I don't need any more, I don't want any more.
My Short Cut: Obviously you're not going to get out of this holiday without spending money, but there are ways to put the money to better use.
My kids are easiest to buy for so I get them over with in November (yup! I'm done with everything but the stocking stuffers)
Nieces and nephews: Get cash – $25.
My husband and I usually do stockings for each other. That cuts down on the amount of 'stuff' that we bring in to the house. This year I want to get something for the house. I've been remodeling and my husband works with tools, so I'm thinking about some nifty gadget like an oscillating multi tool that we can both use.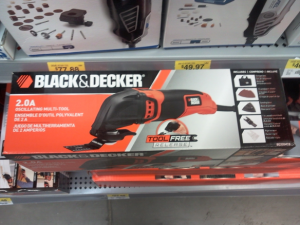 My Perfect one size fits all Zen-mas Gift: A Goat!
WHAT? Yes, a goat. I did this last year and it was so successful I'm doing it again this year.
And before you say "So and So would never go for that"
We purchased: goats, seeds and clean drinking water tablets for needy people in other countries and EVEN health care for CATS! in our own country, in the names of our closest family and friends, not to mention my daughter's teachers, the post man and everyone else I needed a gift for and couldn't think of what to give.
It's the perfect Zen-mas gift.
No one complained, a few people cried and it's in the Spirit of the Season!
This is where you get the biggest Zen-mas bang for your buck: http://www.thehungersite.com
(The 'Buy a Goat' link: https://www.thehungersite.com/store/client-side.do?siteId=220&categoryId=253&adId=20373&placementId=207181&origin=&sort=Most%20Popular )
They also have a: Breast Cancer site, Animal site, Autism site and several more that you can support. And it's not only donations, there are Wonderful Gifts there also. Jewelry, bags, everything you can image. Buy a goat and pick a little something special up for yourself.
It's quick, easy, stress-less, it fits anyone 20 years and up and it will actually get used the day after Christmas and the days following.
And just to move you along the path of putting Christ back into Christmas …….. and possibly Hanukkah and Kwanzaa ……. here is a quick look at a sample of what I printed up to tell people we got them a goat. Feel free to use it and change it any way you like.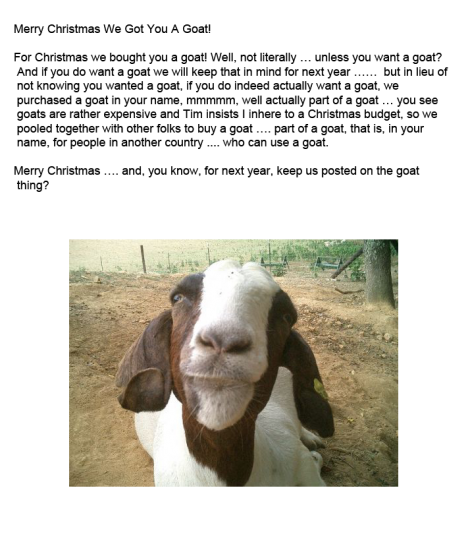 Elements used to create Featured image Artwork provided by
Created by Jill
.