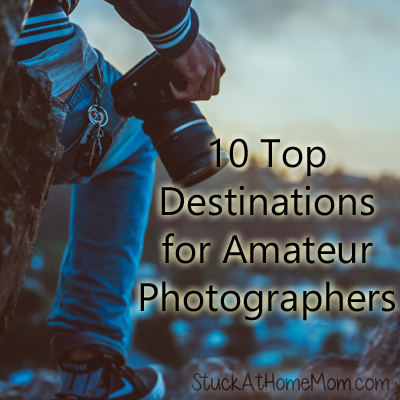 You already know taking a great picture is more than picking up the camera and pressing a button. Honing your photographic skills means taking a lot of pictures and learning as you go. Where better can you practice, experiment and refine your technique than one of these 10 top destinations for amateur photographers? Get your snapping finger ready.
1. Lake Winnipeg
Photographer Lori Janeson found inspiration right in her own backyard. It's not hard to see why. Manitoba residents knew all along what a treasure they had just a couple of hours to the north. Lake Winnipeg is about the size of New Hampshire and one of the largest freshwater lakes in the world. Along with all that gorgeous fresh water comes a number of stunning white-sanded beaches. It's an amateur photographer's paradise.
2. Vermont
Vermont is picture-perfect. Its lovely fall leaves, mountainscapes, country roads and covered bridges grace the front of postcards and calendar pages everywhere. Vermont is also full of places that reveal America's early history. It doesn't matter what time of year you visit. You'll find inspiration wherever you look.
3. Grand Canyon
The iconic Grand Canyon in America's Southwest is, of course, a prime destination for photographers from around the world. The spectacular geologic formations, jagged cliffs and immense size give Grand Canyon photographers a lifetime of enchanting possibilities. No scenic photographer's portfolio would be complete without a picture of the Grand Canyon at sunset.
4. Norway
If you're thinking of taking a trip outside of North America, Norway is a great choice for nature photographers. Norway's small population means that some of the world's most dramatic scenery is yours for the snapping. Sharpen your skills on the mountains, glaciers and deepest fjords in the world. Capture Norway's Viking and maritime culture in Oslo and Bergen. Take a trip to the Lofoten Islands in the Arctic Circle to experience and photograph the magnificent northern light shows.
5. Dubai
Desert and people meet and thrive in Dubai. Of course, the desert has a beauty all its own. But, Dubai's existence on the arid landscape is the stuff of photographic legend. How can a waterless environment sustain an exploding population? Photographers find a study of contrast in Dubai unlike anywhere else in the world and you can stay at a desert resort in Dubai. Nature provides even more theatrics when storms and fog envelop the city. Photographs take on an otherworldly beauty.
6. Borneo
If photographing endangered species is your dream, Borneo is the place to go. The third largest island in the world is also one of the most remote. Endangered orangutans and clouded leopards call Borneo home. Photographing one of these rare creatures is possible if you're willing to put forth the effort.
7. Iceland
Iceland is much more than just a hot travel spot for travelers; it's a dream destination for abstract photographers. The country's geological landscape provides a number of awe-inspiring photographic subjects that include volcanoes, glaciers, open spaces and coastlines.
8. India
India has everything a photographer dreams about. From its golden sunshine to gorgeous beaches and its majestic mountains to jaw-dropping architecture, India is so much more than the Taj Mahal. You won't want to miss the Golden Temple in Amritsar. If stunning mountain views are your photographic pleasure, don't forget to visit McLeodGanj in the Himalayan foothills.
9. China
China is a massive country with an ancient history. The landscape is diverse and provides an endless supply of picturesque opportunities. Visit the "Golden Triangle," which includes Shanghai and Beijing, to capture ancient examples of historic architecture. The lesser-known area around Guilin is the place to find more ethereal landscapes without the crowds.
10. The Scottish Highlands
Experience gorgeous scenery just a short walk from your car on the outlying islands of Mull and Skye. The Trotternish Ridge on Skye is the perfect example of the seemingly unreal natural landscape.
Motivate yourself with any of these destinations. But remember, whether you're a budding photographer or an old pro, don't forget to look in your own backyard for inspiration as well.
Elements used to create Featured image Artwork provided by
Created by Jill
.