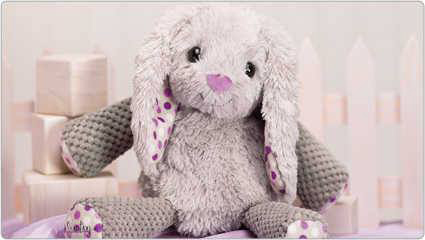 Roosevelt the Rabbit Scentsy Buddy
Guest post by: Nicole Cooley
As a Scentsy Independent Consultant for just over a year, I have seen some amazing organizations that Scentsy has supported through their cause campaign. This season Scentsy is proud to have March of Dimes as a beneficiary for its spring "cause buddy" in 2014. For every purchase of Roosevelt the Rabbit ($30) Scentsy Fragrance will donate $6.50 to The March of Dimes in support of their efforts to help moms have healthy, full-term pregnancies. Scentsy has committed to a minimum donation of $150,000.
Your purchase of Roosevelt the Rabbit will support the March of Dimes imbornto campaign, allowing it to continue its research and education programs to prevent premature births, birth defects and infant mortality and to bring comfort to families when they need it most. Scentsy will donate $6.50 from the sale of each Roosevelt to the March of Dimes. In addition, I will be matching Scentsy's $6.50 for each Roosevelt purchased throughout our campaign (March – August 2014). My goal is to personally sell 160 Roosevelts this means between Scentsy's donation and mine we would be able to raise $2,000 to the March of Dimes! Help me do this by sharing with everyone you know and directing them to my website, listed below.
The March of Dimes is very close to my heart. All three of my babies wanted to enter this world way before they should have. The advances in technology, education and support helped my doctors identify early signs of "trouble" and determine my care plan. The research of premature births helped me to understand how important it was for my babies to stay put. I know that our children avoided potentially unavoidable health and/or developmental delays.
For one of my closest friends and co-workers the March of Dimes means this for her:
In September, 2008, we lost our beautiful twins, Shea and Riley when I was almost 23 weeks pregnant. I support the March of Dimes because their mission is a simple but incredible important one: To help moms have full-term pregnancies and healthy babies. That's it. Just trying to keep babies in the womb as long as possible and helping them survive if they come too early. With the research and education that they provide, fewer parents will have to go through the loss of a baby and more will go through the joy- like we did with the birth of our healthy daughter, Fiona, in 2009!
Please help us support the March of Dimes by purchasing your own Roosevelt! Roosevelt is a great gift for kids, grandkids, and birthdays or just for you. Know that you are supporting a wonderful cause that supports us all.
Shop: Roosevelt Campaign at http://nicolejcooley.scentsy.us
As a Thank You for Supporting March of Dimes, for every $400 in sales of Roosevelt & other Scentsy products through our Roosevelt Campaign I will draw a winner for the following:
$40 in Free Product
$20 in Free Product
3 – ½ Price Items
To be eligible be sure to include an email and phone number that you can be reached at!
Thank you so much for your support! Please share with friends and family if you would like.
Nicole Cooley
Independent Scentsy Family SuperStar Consultant
[email protected]
207-620-4315
http://nicolejcooley.scentsy.us
Elements used to create Featured image Artwork provided by
Created by Jill
.