Andouille Veggie Supreme Recipe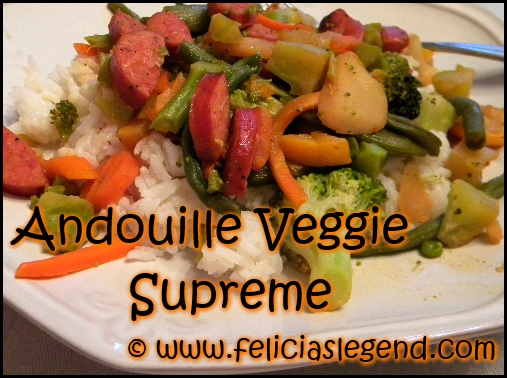 Today's delicious guest post comes from FeliciasLegend.com
Just grab that grocery list, a pen and get ready!
Now that Sunday dinner is planned, all you need to do is follow the directions (and possibly take a quick trip to the market) and dinner will be Fabulous!
Andouille Veggie Supreme Recipe
Servings: 4 Serving Size: 1 cup of veggie mix over 1 cup of rice
Calories: 304.9 Fat: 1.9g Carbs: 58.9 Protein: 7.7g Fiber: 2g
WWPP: 7 [side note: must figure out what WWPP means]
Ingredients:
6oz or half a 13.5 oz package of Adnouille sausage (if you can't find
1/4 cup of low sodium chicken broth
1 package of Great Vaule Sugar Snap Stir-fry
1 Tbs of Lea & Perrins Worcestershire sauce
Andouille you could use Kielbasa but the calories and all may change
salt and pepper to taste
4 cups of white medium grain rice cooked according to directions (you can swap out for brown rice and the calories would then be 279.6 and WWPP would be the same)
Directions:
Cut sausage into 1/2 inch rounds then cut rounds in half; pan fry over medium heat until lightly brown then remove from pan and set aside reserving the drippings.
Add the stir-fry to the pan with drippings and cook on medium until vegetables are no longer frozen solid. Add sausage, Worcestershire and chicken broth to the pan, cover and let cook for 20 minutes are until vegetables are tender.
Serve over cooked rice.
Other recipes from FeliciasLegend.com:
Elements used to create Featured image Artwork provided by
Created by Jill
.