Cheesy Sausage, Bacon & Potatoes Recipe
Cooking is not my thing so anything that is easy and both kids can and will eat, quickly becomes a family favorite. This recipe is easy, relatively quick and can be served for breakfast or dinner (maybe even lunch!)
You'll Need:
7 to 10 Red Potatoes chopped into half inch cubes
1 package round sausage links, cut into half inch round pieces (I use scissors)
1/2 pound of Bacon cooked and chopped
1/2 an onion chopped (unless you really like onion, then go crazy)
1 cup of shredded cheddar cheese
a bit of ground pepper and salt
A little olive oil
Preheat oven to 400 degrees F.
Line a large baking dish with foil and drizzle olive oil and spread it around, set aside
In a large mixing bowl combine the potatoes, sausage, bacon, onion with as much pepper and salt as you find desirable. Place the combined ingredients on to the foil in the baking dish.
Cook for 45 minutes or until potatoes are soft.
Sprinkle cheese on top and place back into the oven until the cheese melts (usually less then 5 minutes)
Serve immediately.
NOTE: I don't use seasoning with this recipe because who needs seasoning with bacon and sausage?
The amount of potatoes depend on the size.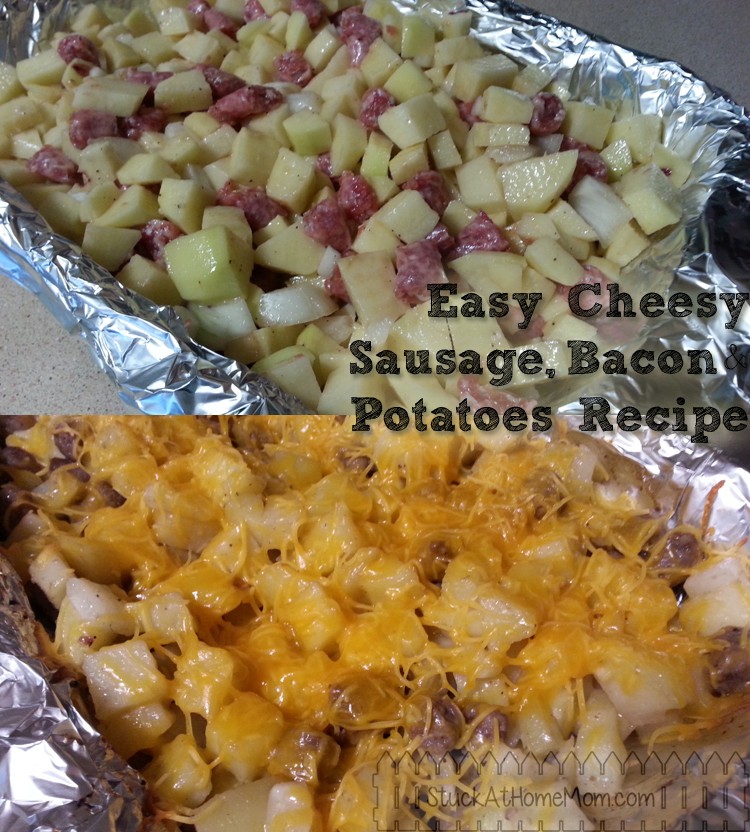 Elements used to create Featured image Artwork provided by
Created by Jill
.