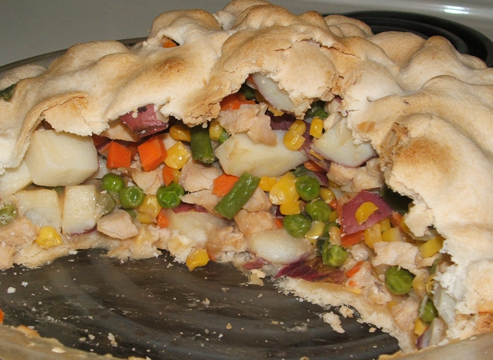 Let me just say now, I do not like cooking. Baking, I like when I'm in the mood, but cooking meals – not so much.
It's not that I don't want to cook for my family, I do, I want to make good healthy meals.
But……..
1) Cooking takes more mental focus then my attention span allows.
2) I want to make meals that are healthy and TASTE GOOD.
3) There is always that critical moment in cooking where someone falls of a bookshelf or needs their butt wiped.
Which is what happened yesterday evening.
I had the gravy at the critical juncture where you can't turn your back on it – when out pops Treasure needing her butt wiped!
Luckily in our house there is always some comic relieve – I yell to Keeper to come stir the gravy, she follows me into the bathroom and asks "Ok Mom, in what direction?"
Me: WHAT?
Keeper: What direction do I need to stir the gravy? This is real life mom, I don't see any arrows!
Well, that took a minute to ponder – luckily the gravy survived.
I have planned meals, pre-made meals, and come up with excuses to order meals, but what I haven't found is away to enjoy making meals.
But Yesterday morning I had a light bulb – Get Precooked Meat!
I know what you're thinking ….. I used to think the same thing. For years we only ate organic foods, however, Treasure ended up with problems regardless, so we're going to test this out.
Here is my NEW plan: Purchase precooked chicken, beef, turkey and add them to whatever I'm making. Where is the rule that reads "Mothers must cook the meat or it's not a home cooked meal"? I am almost positive there isn't one.
We took my theory for a test cook last night. Turkey Pot Pie! It was fabulous!
Precooked thick sliced Butterball Turkey breast, better then I could have ever cooked it.
I cut the turkey into smaller chucks, chopped up some red potatoes, added some frozen veggies into an uncooked pie shell, poured on some gravy (thanks to Keeper), covered it with another uncooked shell and cooked it at 425 for 30 minutes!
Tonight: leftovers.
Tomorrow night: Beef Stew!!

Elements used to create Featured image Artwork provided by
Created by Jill
.