Ice Sphere Molds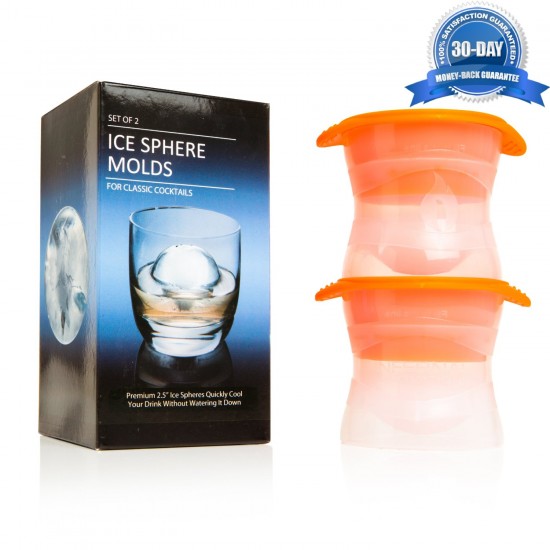 I've had a BLAST with these Ice Sphere Molds from Infernal Innovations. Ice Sphere Molds are the perfect kitchen accessory, and are truly a new spin on the standard ice cube tray. They come in a package of two and produce a 2.5″ ice ball. They are the perfect things to put in your beverage and since they are slow melting they won't dilute your favorite drinks.
The kids call them Ice Balls and so far I've made Juice Balls and blended fruit balls. We've put them in paper cones to lick and drinks for ice. We've frozen fruit chucks of Fruit in them and a friend requested Chocolate Milk and Bailey's – We haven't tried that one yet, but look out Company Christmas Party!
They really work wonderfully. The directions are easy enough to follow but if you need a little extra instruction Infernal Innovations even has a Youtube video.
The two molds stack in your freezer to save room in your freezer and stand up well on their own and catch any leaks in the grooves of the lid. They take a little longer than standard ice cubes to freeze but it is worth the extra time. The ice balls come out of the mold relatively easy — I ran mine under hot water and it took me about 30 seconds of squeezing to get it to come out. Using tap water, mine weren't even that cloudy, and I'm sure they look perfectly clear with distilled water. I can't wait to use the Ice Sphere Mold to cool down pitchers at our families 4th party!
Also important to note – these things are tough! When the girls took the molds out of the freeze one of them dropped to the floor and didn't break
Ice Sphere Molds by Infernal Innovations works so well you will want more than one set so everyone will be able to have their own ice spheres for their drinks. With the help of the spheres there will no longer be a need to get ice every time you refill a drink. They are so slow melting that they last several refills. Ice Ball Molds are BPA free and dishwasher safe for easy care.
I think these make the perfect gift for someone who loves to entertain, or for the person who has everything. These are great for both children and adults alike. You won't be disappointed!
Elements used to create Featured image Artwork provided by
Created by Jill
.