My Food Storage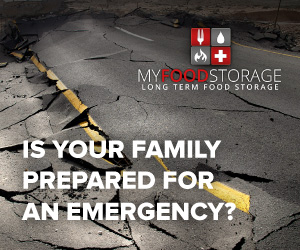 Are you prepared for an emergency? Maybe an emergency food shortage or a natural disaster? There's been a lot of talk about getting prepared for the possibility of these events. We are now living in a society where we need a backup plan in case of emergency. So many things could go wrong in today's world and threaten our food sources. Preparing for these types of disasters is exactly why My Food Storage came out with their line of products. They have quite a few products on their website but the one getting all of the attention is their dehydrated food product. My Food Storage dehydrated food can be prepared simply by adding water and has a 25 year shelf life. That, alone, is highly impressive. How, though, does it actually taste?
I decided to find out the answer to that question. It helped that it was a busy night and I had no idea what to do for dinner. I had a sample of the My Food Storage food, Chicken A la King to be exact. It looked quick and easy so I decide to give it a try. I like to eat most everything, but I didn't have very high expectations from food that has a 25 year shelf life. The instructions proved to be simple. Add boiling water and simmer for 5 minutes. It does not get easier than that!
I can honestly say that this food was surprisingly good! I can see us having this for supper even if it wasn't an emergency. I imagine that in an emergency it will taste even better. Being in an emergency is stressful and the fact that this food is so quick to prepare is a huge bonus. It's quick and very easy to prepare which would make hectic nights a snap. Right now, until 6/30, MyFoodStorage is having a 10% off sale. If this is the type of thing you need, make sure you grab this deal! You will be pleasantly surprised with a genuinely yummy and quick meal and you will love the pricing!

Elements used to create Featured image Artwork provided by
Created by Jill
.