I had a week of Selfie Stick reviews! 10 in all … I think.
Here we go ……..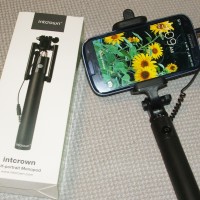 Selfie Stick, Intcrown Self-portrait Monopod Extendable Selfie Stick for iPhone 6, iPhone 6 Plus, iPhone 5 5s 5c, Android(Black)
Offered by Intcrown Price: $29.99
This selfie stick is a great value. It's heavy duty so the kids can use it and it's easy to setup. One of the best features is that it holds any phone without pressing unnecessary buttons just by sitting in the holder. Also, this selfie stick is plug and play, no timer required. Plug it in, press the button and it takes the pictures. Some older phones may require an app, but we've found that the Camera360 app works well and so many of our phones and smart devices have it installed already that much of the time we just use the app.
Thus far we haven't found a phone it won't work with. We have plenty of older phones that the kids play with so we have an assortment to test with, but even my old Droid didn't have a problem. It's compact, light weight and has survived to 2 kids fighting over it for a week. I give it 2 thumbs up!
Bluetooth Selfie Stick, iRAG with 20 Hours Battery Life for iPhone, Android and All Other Smartphones – Black
Offered by iRAG Price: $11.99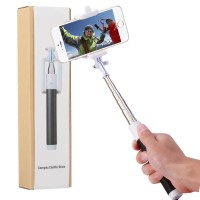 Some selfie sticks are battery free and need to be plugged in to the phone, others are blue tooth and only require that we sync the stick and the phone. Both have advantages however the blue tooth may be a little easier for some folks because once it's sync'd you don't need to worry about anything else. The blue tooth settings are designed to take over and do what it's supposed to do, where that doesn't always happen with the plug and play (non-blue tooth) version – sometimes older phones require an app.
The Selfie Stick from Noot has a simple setup. Charge it, turn it on and then set your phone to detect it. Once your phone detects the selfie stick it will pair and you're ready to go. Another great feature of the Noot blue tooth selfie stick is that it's small and compact. This can fit in your back pocket or the front pocket of your backpack. It's not bulky and will retracted to fit almost anywhere.
One last thing. The description indicated that the battery life is 20 hours. We charged it once over a week ago and it's still working without a second charge.
CMS 500DL Generation 2 Fingertip Pulse Oximeter Oximetry Blood Oxygen Saturation Monitor with silicon cover, batteries and lanyard
Offered by Med Shop and Beyond Price: $18.99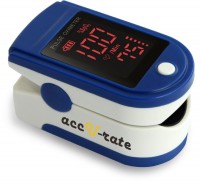 I wanted the Pulse Oximeter as more of a toy, but it's has become more of a necessity lately. So much so I got a second for our TaeKwonDo Boosters group. A lot of kids have Asthma, but are to young to tell if they are just out of breath because they've been running or actually having an Asthma attack.
It's quite simple too. You just place it on your finger, press the button and it does the rest – giving you O2 stat and pulse in seconds. And it's quick! Which, obviously, is good when someone is having trouble breathing.
Wired Selfie Stick
Offered by iRAG Price: $7.99 – $14.99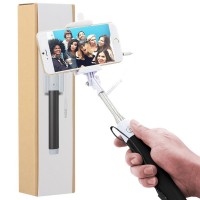 We have a variety of phones and texting devices and this selfie stick works with all of them. Which is great because we lose a lot of selfie sticks when they dropped in the lake, fall into pens at the zoo, or just vanish under beds so having several spares that will work with every device is almost a necessity in our house. And this one doesn't require charging so there's no blame to be passes around – just plug it in and go! This means finding it behind the couch 2 minutes before we leave isn't an issue, because it's always ready to be take a picture from outside the window of a tour bus, you know.
With one of the older Androids we used an app called Camera360. It probably would have worked fine without it, but it was already installed and automatically came up when we plugged in the cord.
iTECHOR Aluminum Alloy Foldable All-in-one Self-portrait Monopod Extendable Wireless Bluetooth 3.0 Selfie Stick with Adjustable Phone Holder
Offered by iTECHOR Price: $29.99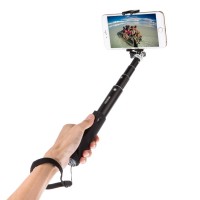 We have a lot of Selfie Sticks – and by a lot I mean we probably have 10. All the selfie sticks we have are great, they all work, they all do exactly what they are supposed to do, but this one is The One!
This Blue Tooth Selfie Stick is durable, flexible, charges in an hour and stays charged for ages. It's light weight, but heavy duty. Pairing was easy and setup is automatic.
The value couldn't be better! I would expect to pay at least $45 for this selfie stick, it's that nice and works that well. This product is so well built that if there was a "professional" version of a Selfie Stick – this would be it.
Selfie Stick, NOOT PRODUCTS® Self Portrait [Battery Free] Extendable Handled Stick with Adjustable Phone Holder & Built-in Remote Shutter Designed for Apple, Android Smartphones – Green
Offered by iToon Price: $9.99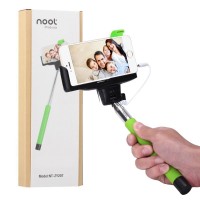 The Noot Groupie Selfie Stick is great. It works great. I does what it's supposed to do. What impressed me the most about the Noot Groupie Selfie Stick has nothing to do with the selfie stick itself, it was the business card that came with it. A business card with contact information! Who does that? Who cares that much about customer service that they put a business card into everything box. We have several Noot Selfie Sticks. We love the brand, but part of the brand is know that you can call or email someone when you need to. Nothing and I mean NOTHING says quality like a brand that cares about their customer.
We have plenty of Selfie Sticks, but with the Noot I know they stand behind their product. Product provided for review courtesy of sponsor.
Dog Whistle Complete Bundle for Obedience Training & Repellent Aid – Premium Quality – Stops Dog Barking with FREE BONUS Lanyard and FREE Dog Whistle Training E-Book – 100% Money Back Guarantee
Offered by Emkay Online Price: $14.99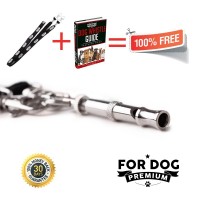 Great whistle, maybe even better the "How To" ebook that comes with it.
The eBook helped me setup the whistle so I could actually use it. I've purchased whistles in the past, but could never get them to work – apparently because I didn't know how. Now I feel like an expert. There are a lot of great tips, tricks and advice in the eBook – the whistle works great, but if you don't know how to use it it's kind of pointless – the eBook is so informative I'm surprised it isn't sold separately – it's that good. The eBook is printable so you can have it close while training your dog.
Better Note Taking Made Easy: 8 Simple Steps on How to Take Notes (Notes and More Book 1)
Price: $2.99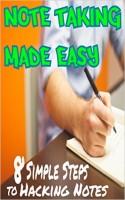 Simple read with a lot of good advice. Easy enough from my 6th grade middle schooler to understand and be able to use the techniques. Also good for taking notes in meetings. Not just jotting down disjointed ideas, but actually taking notes to help you remember what was talked about within the meeting. You can read and retain the entire eBook and under a half hour and be ready to take notes like a pro.
Elements used to create Featured image Artwork provided by
Created by Jill
.