AmPen Hybrid Stylus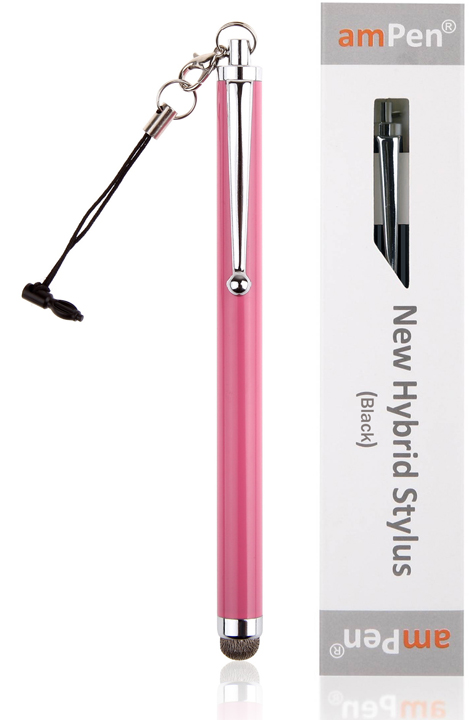 Like most of you, I find myself trying to get a lot done while out running around. Working in social media keeps me busy and constantly connected, often by mobile device while I'm running from one of the kids' activities and therapies to the next. I spend almost the whole of every day scrolling through trending information and reading white pages (and not the phone book kind).
Let's face it, trying to use a touchscreen device without a stylus is next to impossible, especially if you are trying to be accurate and quick. Not using a stylus often leads to the wrong items being selected, smudges, and sometimes scratches. These things are so incredibly frustrating!
When my last stylus broke, as the rubber tipped ones are prone to do, I decided to try the amPen Hybrid Stylus because going without a stylus just wasn't going to happen. I need quick and accurate scrolling when I'm using my tablet and cell phone to keep up with what is trending. The amPen Hybrid Stylus was definitely worth a try.
What I found is that it's almost the perfect stylus. The fiber mesh tip is so much nicer than a rubber tip! The fiber mesh is gentler on my screens and glides so nicely. The stylus also works as a pen for your mobile apps that allow you to write. The tip is the perfect size to keep writing at a decent size and a nice control. The fiber mesh tip doesn't get hard either, which is huge! I don't even have to press down on it because it's so sensitive.
This stylus works really well in every app I have tried. It works on games, communication apps, mobile browser apps, and mobile word processing, just to name a few. To say that I am impressed with this stylus is an understatement. This stylus not only replaced my old one in a pinch, but it has become my absolute new favorite stylus. And I love the selection of colors! I honestly can't see myself using anything brand of stylus.
Giveaway!
The great folks at AmPen are allowing me to giveaway a AmPen Hybrid Stylus with Replaceable Fiber Mesh Tip to 1 of my faithful followers!
AND….. And I am going to give away CANDY too! One winner will receive not only the stylus, but the padded envelope with also include as much candy as I can stuff into it.
To enter:
Step 1. Likes and Follows
Please Follow AmPen on FaceBook
Please Follow on AmPen on Twitter
Please follow me on either my FaceBook profile: eDee Williams or my FaceBook Fan Page (or both)
Step 2. Leave a comment below letting me know that you've completed step 1.
Please note: When leaving a comment, please put an email address where you can be reached in the Email field and NOT in the comment itself.
Rules: Giveaway runs from 7/3/2014 12:00pm eastern through 7/13/2014 11:59pm eastern. Must be 18 years old to enter. Valid in the US only. StuckAtHomeMom reserve the right to cancel the giveaway at anytime without notice for any reason. We reserve this right to ensure that the giveaway is fun and not soiled by internet trolls.
Elements used to create Featured image Artwork provided by
Created by Jill
.