With summer in full swing and July 4th right around the corner, picnic season is well under way. A basket filled with fresh fruits and veggies, as well as sandwich fixings, cheese, and crackers is bound to make for a great summer outing! If you travel frequently, stopping for a quick lunch or snack before getting back on the road is a great time and money saver for you. Perhaps, you often host events where hors d'oeuvres are served. A bottle of wine and a cheese tray make for a perfect romantic evening with your love. No matter the reason, food is a big part of our lives, and finding ways to spice it up is always at the forefront of planning for and preparing every meal.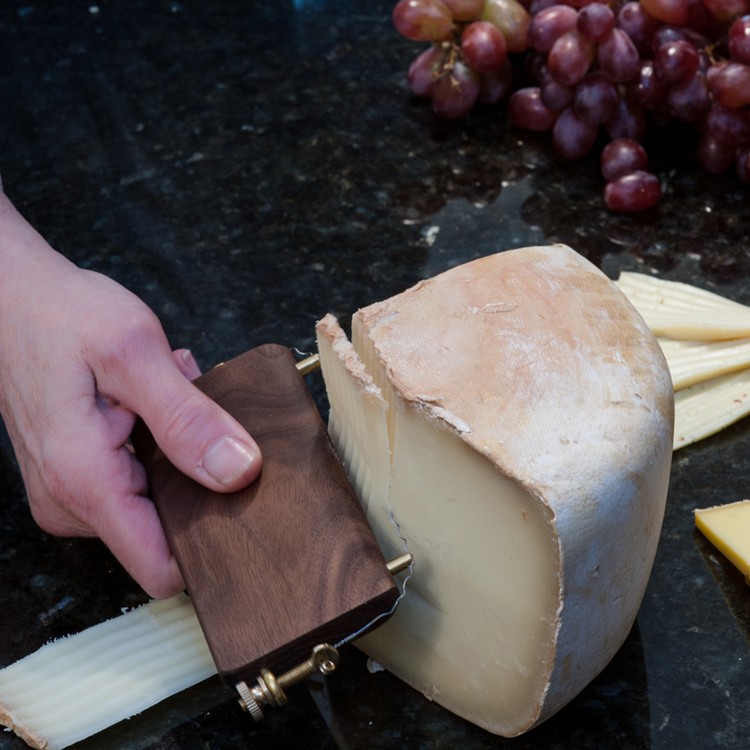 The handcrafted ripple cut cheese slicer from Blue Iguazu is just what you need for cutting your cheese with precision and style. It cuts cheese in a ripple design, adding to the exquisite look and feel of your food dishes. This cheese slicer has no sharp edges, so never again will you have to worry about a knife slipping and cutting you. It is even safe for children to use, which makes it great for creating memories with your little ones! Whether you want your cheese slices cut thick or thin, it will make a beautiful, clean cut every time. It is great for use with any kind of cheese, and its design makes the cheese slicer especially easy to use! The slicer has a stainless steel wire with easily adjustable tension so that you have control over the way the slicer cuts. The handle is made of natural wood, ensuring its durability, so that you can feel secure in knowing that it will last for years to come. The hand crafted ripple cut cheese slicer is made with care in the USA, using only the best quality products.
The ripple cut cheese slicer is great to use for nearly any occasion. Dinner parties are no longer a bore with elegantly cut cheese slices. Make your next picnic fun and stylish with ripple cut cheese! Add to the excitement of your 4th of July party and impress your guests! Using this hand crafted ripple cut cheese slicer will be one of the best things you ever did for your meal!

Elements used to create Featured image Artwork provided by
Created by Jill
.