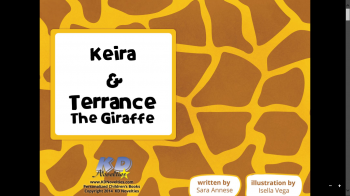 Make Your Own Personalized Books!
Social stories are so important for children. Many children learn to understand social cues and emotions by hearing and reading stories. One of the best way to engage children into any story is to make them a part of the story. When I saw that KD Novelties sells personalized books, I had to check this out.
The book I chose to personalize for Keira was the story of Terrance the Giraffe. Terrance the Giraffe is different and in my personalized book Keira helps Terrance accept himself despite teasing by the other young giraffes. The story is relevant to children and is a great way to help kids learn to accept themselves and to help others who are struggling with differences. This is huge!
Personalized books and stories are already being used in various forms of autism and social therapy. KD Novelties has taken it to a whole new level. You can get the e-book, or you can order a hard copy of your personalized book and have it sent to your house.  The prices are reasonable and the story about Terrance the Giraffe is one that all kids can relate to. My daughter, Keira, absolutely loved it and now I have it on my computer anytime she wants to read it. It is sent as a pdf file, which means you can open it on any device (including smartphones and tablets) so long as you download Adobe reader.
Keira loves her personalized book. She's amazed that her name appears in a story. As you can imagine, its nearly impossible to find anything with Keira's name on it. This book has done its job. It has made Keira so happy and it is teacher her how to handle an awkward social situation. I can't ask for better!
Elements used to create Featured image Artwork provided by
Created by Jill
.