Kobert Waterproof Case
While I love new technology, I'll admit to not being very safe in its use and upkeep. Sadly, I've been through several phones (and bags of plain white rice) because of my negligence. The Kobert waterproof case promises to relieve me of some major frustration in the future. It comes with simple instructions to test before use, installation instructions for your phone (um, put in and snap shut), and recommendations for major phone functions. This will make all of my outings with my friends and kids less worrisome and allow me to capture the moments no matter where we are (though we're normally at or on the water).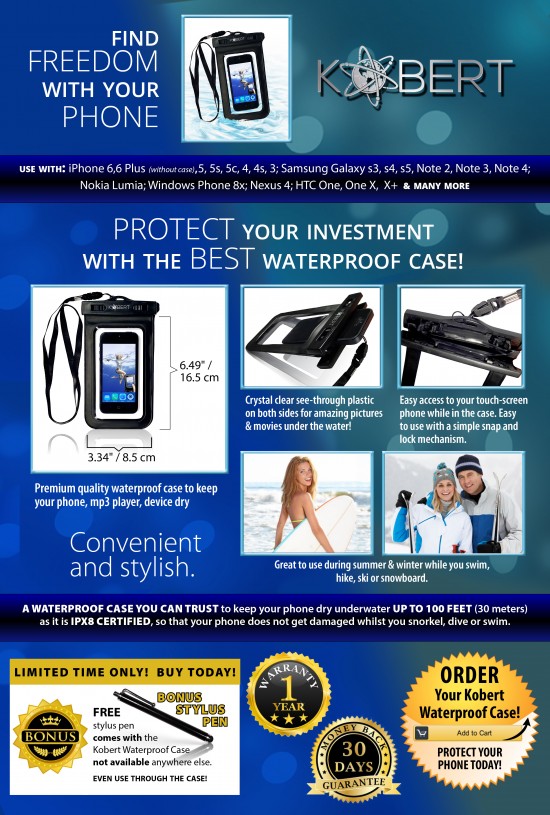 Having kids and keeping them busy is a daily job, rain or shine. Since I'm of the mind that kids should be outside in the fresh air, my phone has to be durable and its case must be the same. With this waterproof case I'm able to enjoy puddle jumping, seaside picnics, and any other activity my kids can invent. As well, because I can use both the front and back cameras with the case, we can capture photo-worthy moments even in the rain or the waves. Being in the wet Northeast, I can safely say I've tested the Kobert case in several types of inclement weather. I hang it around my neck with the included lanyard and shovel the front steps and have had no issues.
When I got the case I did test as suggested. You need only put some paper in the bag (a tissue, paper towel, or whatever is on hand), snap the case shut, and put it in a pot of cold water or your sink. If you have any problems and the paper is wet, you send the case back for a replacement. This wasn't an issue for me. I was able to put my HTC One in it with no fit problems and close it up securely. While I won't say it's the most stylish of options, it's certainly the most practical. Thankfully, it's easily re-opened and closed if you want to be more "fashionable", but for most purposes, this is the case that busy active people need.
Elements used to create Featured image Artwork provided by
Created by Jill
.