We spent the better part of our Sunday at Ricker Hill Orchards – We went to pick apples, but when we got there we found an Orchard Amusement Kiddy Park. Three bounce houses with No Time Limit. Disc golf, Hand pump duck races, cows, goats, donkeys, a Corn Box (far better than a sand box) Corn Maze and a even a Hay Maze for the wee little ones and there was more. We spent about 2 hours just letting the girls run wild and everyone there was having a good time. Oh and these weren't just any bounce houses – these were the Good Kind – The kind you climb up and slide down and squeeze between puffy things.
There's a general store where you can buy your day pass – which was so inexpensive I forget how much, I think it was $4 per child – WELL WORTH IT! We got our 8 bucks worth and then some!
Oh the warm fresh baked doughnuts and apple crisp – so so so good. And the cashiers were wonderful and happy – we must have made 3 stops at that store and when I left I wanted to hug one of the cashiers – she was that pleasant.
People where coming in steady, but it was never crowded and there was always a place to park. I've never seen anything like it. Tons and Tons of people – every single person in a good mood, but no crowds. I don't know how to explain it.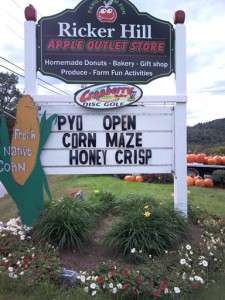 And this is the MOST Amazing part – there weren't people around telling kids "Do this" "Don't do that" and you know what – THE KIDS where telling each other to be careful around the little ones and there were teenagers helping little kids get their sneakers back on and showing them how to do the hand pumps, kids that didn't know each other, who were all there just to have fun, were helping each other out – it was unbelievable.
Then after 2 hours of play time, corn mazes and just getting to know people we'll never see again, we finally made it to the apple picking and WOW What a View!
Honestly I went to pick apples, if I had known I'd have the best ever view of Mt. Washington I would have packed the good camera.
We get to the Orchard, (which by the way is down the street from the general store and the kiddy park) and there is a guy sitting on the picnic table talking to people and handing them bags, telling them where the best picking is – it was so laid back!
He tells us its $0.99 a pound and I'm thinking 'my 4 year old can eat 10 apples a day easy' oh yeah, we got the BIG BAG and went to town!
The Apples were like grapes hanging off the trees. BEAUTIFUL! They fall off in your hands and the apples are so large! And just to top off the day – there is a hay ride!
The only line I saw all day was the one to pay for our apples and that line Wasn't Long Enough.
I got in line to pay for the apples and you just can't help but talk to the people around you. We were chatting it up, talking about everything under the sun – I've never wanted a line to move slower, but I would have been happy to stand in that line for an hour.
I know I'm forgetting a lot, but here is the link: http://rickerhill.com/
And also their FaceBook Fan Page Link: http://www.facebook.com/pages/RICKER-HILL-ORCHARDS/286008102698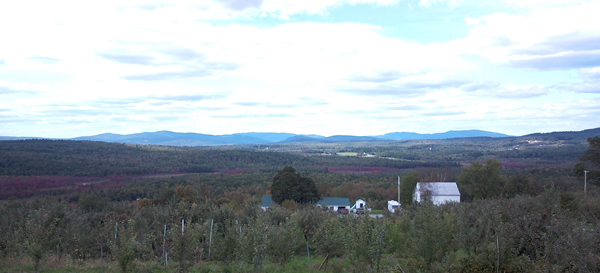 It doesn't get any better than this.
Elements used to create Featured image Artwork provided by
Created by Jill
.