Robot Turtles
Robot Turtles from ThinkFun was created to teach coding literacy to children who weren't even reading words yet. The kids are "Turtle Masters" and the adults are "Turtle Movers." The goal of the game is to get your colored Robot Turtle to the same color gem in the middle of the board by "writing the program" (laying down direction tiles) to send the turtle on its correct path.
Setting up Robot Turtles is fairly easy. The board is a grid with a cartoonish background of rivers, rocks, sand and trees. Each player gets a colored frog – two of us played the first time, so we only used the two frogs. The second time we created our own variation where we each used one frog to play and one frog to block, but this was not in the rules. It made the game more of a strategy game by doing that, and made the game a little bit longer.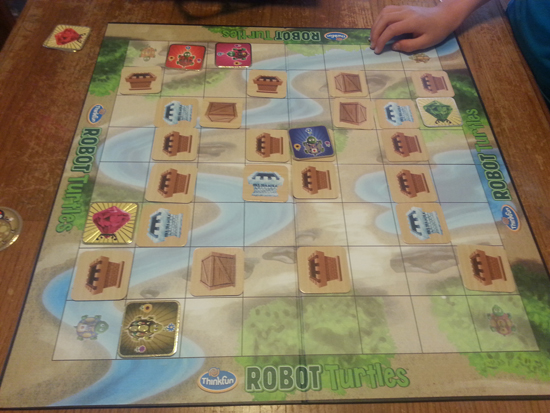 Robot Turtles is well constructed and the board and pieces are durable. They look like they would hold up well with repeated play. The instructions are well-written and easy to follow – you can tell that they were written by a parent who has played games with children before! They even suggest to acquaint yourself with the rules for a bit before letting young children loose with the game.
There are several different levels of play in Robot Turtle. This is what makes can make it a long-lasting favorite. As Turtle Masters conquer the beginning level of play, where they lay down one tile on a turn, the Turtle Movers can then help them move on by placing different obstructions, allowing them to use lasers to destroy the obstructions, or play a variation where the Turtle Master lays down all of the cards necessary for a successful path all at once. This is where the coding knowledge really comes in because the Turtle Masters are "writing their programs" by laying down the cards, and the Turtle Movers are "executing the programs" just as a computer would by following the step-by-step directions that the Turtle Masters provide. Kids can see where their path went wrong if the Robot Turtle doesn't end up where it should.
We enjoyed playing Robot Turtles, and look forward to getting to the higher levels to try some programming skills. It's a great game for teaching young kids to create directions that need to be followed, and the more challenging levels mean that it will grow with them.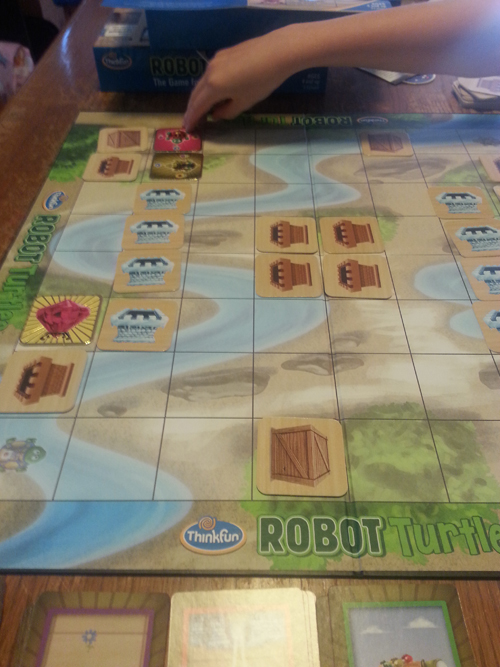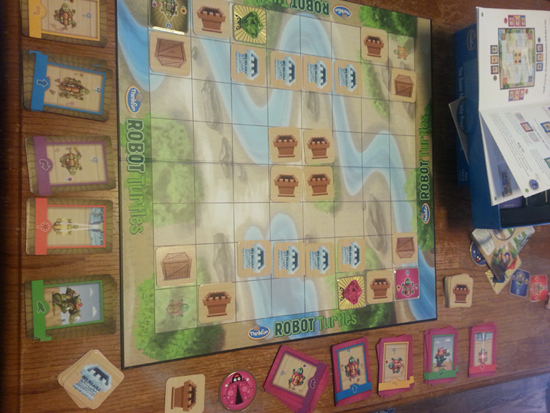 Elements used to create Featured image Artwork provided by
Created by Jill
.