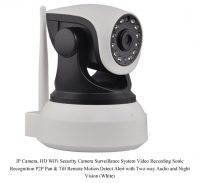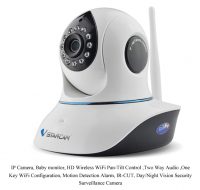 IP Camera, HD WiFi Security Camera Surveillance System Video Recording Sonic Recognition P2P Pan & Tilt Remote Motion Detect Alert with Two-way Audio and Night Vision (Left)
IP Camera, Baby monitor, HD Wireless WiFi Pan-Tilt Control ,Two Way Audio ,One Key WiFi Configuration, Motion Detection Alarm, IR-CUT, Day/Night Vision Security Surveillance Camera (Right)
I have setup a lot of Security Cameras and every one of them has had some kind of glitch – mostly because my phone, but after fiddling I've gotten them all to work.
However I was given for review the 2 easiest setup IP Cameras ever!
Both setup up exactly the same and both use the same app.
Setup on my phone was so easy. I just scanned the QR that is located in the directions and the app installed automatically. From there the app walked me through the rest of the setup step by step, from logging into my wifi to setting up an account. Moving the camera is easy, just swipe your finger across your smart phone and the camera moves side to side, up and down and just about every other direction.
If you have children who are old enough to be left alone, but still need some supervision or elderly folks living with you this is a great way to check up on them quickly. With 2 way conversation you can see how your child's day was at school or ask if you need to pick up milk on the way home.
The video does get a little pixily when the camera is moving, but give it a moment to settle and the image clears up and it's so clear!
Video and image files are found in: /storage/0/eye4
Elements used to create Featured image Artwork provided by
Created by Jill
.